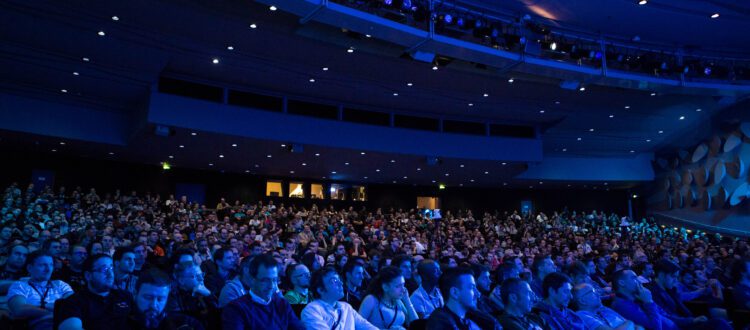 Devoxx France 2021 – Passe Sanitaires et autres informations
🇺🇸 🇬🇧 See English version below
Quelques informations sur Devoxx France 2021 avant d'entamer la période estivale. Comme vous le savez, après l'annulation de l'édition 2020, nous sommes très heureux de vous retrouver du 29 septembre au 1er octobre 2021 au Palais des Congrès pour une conférence 100% présentiel.
Avec le soutien du Palais des Congrès, lieu labellisé Safe V, nous suivons scrupuleusement les règles sanitaires imposées par le gouvernement pour vous accueillir dans les meilleures conditions. La conférence ayant lieu en présentiel, un pass sanitaire vous sera demandé pour rentrer au Palais des Congrès accompagné d'une pièce d'identité. Le port du masque sera obligatoire dans tous les espaces et les gestes barrières devront être respectés.
Si vous sponsorisez Devoxx France, assurez-vous d'avoir bien reçu un e-mail de notre part vous donnant de plus amples informations concernant l'organisation et le montage/démontage de votre stand. Si vous n'avez pas reçu cet e-mail, merci de nous contacter à sponsor@devoxx.fr.
Si vous venez parlez, vous avez dû être contacté par l'équipe du CFP pour confirmer votre présence. Si ce n'est pas le cas, envoyez nous un mail à cfp@devoxx.fr.
Enfin si vous venez en tant que participant à l'événement, assurez-vous d'avoir votre ticket d'entrée (contactez votre société si le billet est géré par celle-ci).
Nous vous encourageons à consulter notre site Internet ainsi que notre compte Twitter pour être au fait des dernières actualités.
Merci pour votre confiance et rendez-vous du 29 septembre au 1er octobre, au Palais des Congrès.
A très bientot
L'équipe Devoxx France
English
Some information about Devoxx France 2021 before the summer break. As you know, after the cancellation of the 2020 edition, we are very happy to meet you again from September 29th to October 1st 2021 at the Palais des Congrès for a 100% face to face conference (no virtual, no hybrid).
With the support of the Palais des Congrès, a Safe V accredited venue, we are scrupulously following the sanitary rules imposed by the French government to welcome you in the best conditions. As the conference will be held in person, you will be asked to show a health pass to enter the Palais des Congrès, along with an ID card. Wearing a mask will be mandatory in all areas and the barrier gestures must be respected.
If you are sponsoring Devoxx France, please make sure you have received an email from us with more information about the organization and set up/dismantling of your booth. If you did not receive this email, please contact us at sponsor@devoxx.fr.
If you are coming to speak, you should have been contacted by the CFP team to confirm your presence. If not, please send us an email at cfp@devoxx.fr.
Finally, if you are coming as an attendee to the event, please make sure you have your ticket (contact your company if the ticket is managed by your company).
We encourage you to check our website and our Twitter account for the latest news.
Thank you for your support and see you from September 29 to October 1, at the Palais des Congrès.
See you soon
The Devoxx France team